Iron deposits were discovered in the Charleroi region in the middle of the 18th century and a coal-fuelled blast furnace was built in Thy-le-Château, 20km from the main site, in 1763, using the power of the River Thyria.
This is how the forge and foundries, Forges et Fonderies de Thy-le-Château, came into being.
The Forges were acquired after 1845 by Eugène Riche & Cie, the operator of the railway connecting Charleroi to Vireux and two coke-fuelled blast furnaces, five reheating furnaces and a rolling mill were built, allowing an annual output of 10,000 tonnes of rail and merchant iron.
Iron manufacturing via puddling was replaced by steel making using the Bessemer Process in the second half of the 1800s and, subsequently, by the Thomas Process – a technique which enabled cast iron to be refined from minerals with a high phosphorus concentration.
It was in Thy-le-Château in 1878 that the Thomas process finally achieved one of its first industrial successes. The presence of coal fields in the region and navigable waterways for the transport of raw materials facilitated the construction of a coking plant in Marcinelle, where two coke-fired blast furnaces would later be brought into service between 1863 and 1872.
In 1888, the Forges et Fonderies de Thy-le-Château merged with the Usines du Midi de Marcinelle, creating the Hauts Fourneaux, Forges et Aciéries de Thy-le-Château et Marcinelle. All the plants were located in Marcinelle by the end of the century.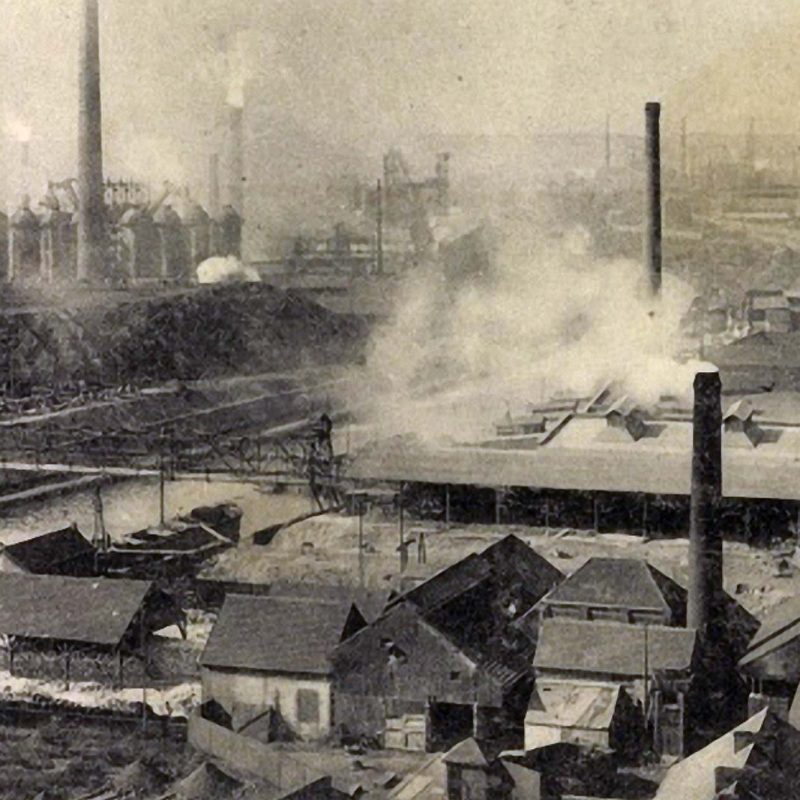 The company suffered severe damage during both World Wars but was rebuilt each time.
It took on the name Thy-Marcinelle in 1962, merging with Aciéries et Minières de la Sambre in 1966 and thus becoming Thy-Marcinelle et Monceau (TMM).
TMM was acquired by Hainaut-Sambre in 1988, which, in turn, merged with Cockerill in 1981, creating Cockerill-Sambre.
The Marcinelle full cycle plant produced around 2 million tonnes of steel per year, 65% of which was used in the production of coils and 35% in the production of long products.
These were produced at the state-of-the-art Rolling Mill 3 inaugurated in 1971. This was a multipurpose, multiline plant, comprising 27 stands in total and able to produce reinforcement bars for reinforced concrete, merchant bars and wire rod.
The two rolling lines were able to work in series or in parallel, as needed, and were therefore extremely flexible, allowing for seamless switching from one production schedule to another, in accordance with the scheduling requirements, with minimal tool change times and allowing any problems to be dealt with without the need to stop production. In 1988, Cockerill-Sambre decided to stop manufacturing long products, focussing its activity on the sheet metal sector.
The Riva Group suggested it take on Rolling Mill 3, which was physically cut-off from the rest of the site by the River Sambre and decided to build a new steel plant to feed it, at an investment of approximately 4 billion Belgian francs.
In this way it was able to avoid the dismantling of a plant, which, once up and running again, allowed around 200 jobs to be saved.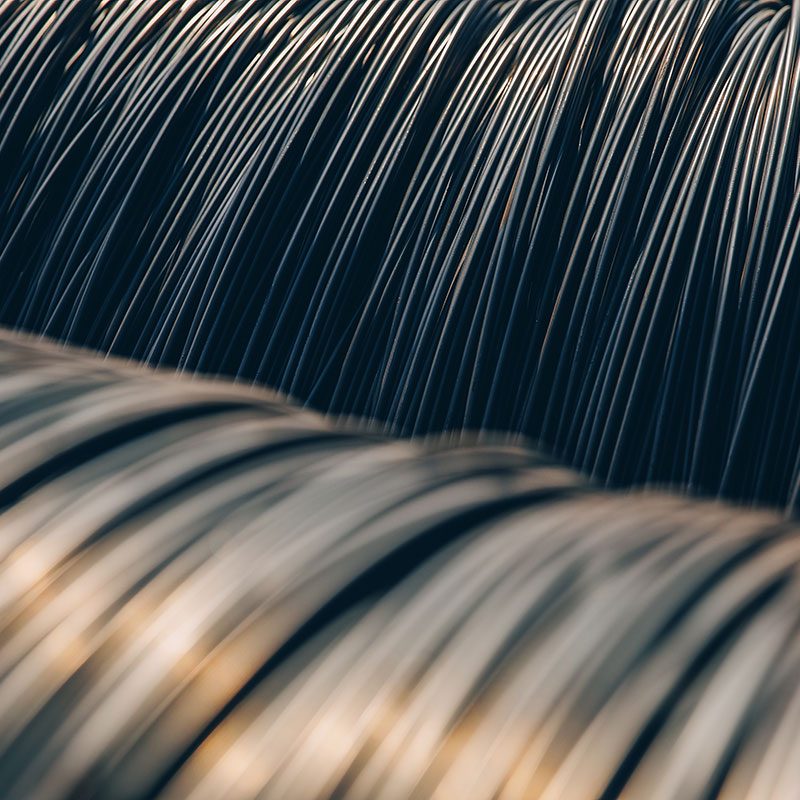 The factory at Thy-Marcinelle mainly produces steel rod with low carbon content, as well as reels of reo wire for reinforced concrete and rebar, also for use in reinforced concrete.
The semi-finished products that feed the rolling mill are manufactured entirely on-site using our steelworks capabilities. Depending on requirements, these semi-finished products (billets) will be rolled, with rapid rotation of the programme in order to reduce stock.
The rod used for reinforced concrete is approved for use in Belgium, Germany, France, Holland, Switzerland and Sweden. The markets supplied are those in Europe, North and South America, Africa, the Middle East, China and Oceania.
The factory has a scrap metal yard that can be supplied mainly by waterway. In fact, this method of supply provides significant economic benefits, because we can export larger volumes of product. It is also good for the environment, reducing our carbon footprint by cutting down on CO2 emissions. Thy-Marcinelle recycles approximately 600,000 tons of steel a year.
The new steelworks feature a very recent electric furnace, a ladle furnace and continuous casting. There is also a smoke and dust treatment system, as well as a water treatment plant, enabling us to operate a closed circuit.
The rolling mill is equipped with rolling train for producing bars and wire rod in coils.
The wire rod is then notched to obtain drawn bars. The notched wire rod can also be used to produce welded wire mesh and concrete rebar. The three finished products are stored in three storage sheds to facilitate the loading of barges and trucks.
A mechanical and metallographic testing laboratory enables proper checks to be carried out on the finished product.